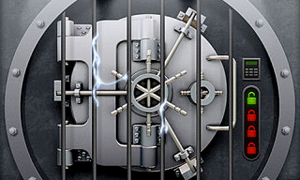 Yet another success story from Apple's App Store. The Heist is a new game for the iPhone from the creators of Camera+. I wrote about these guys previously – they certainly know how to make good apps. Until recently, Angry Birds was the uncontested best seller on the App Store. However, for the past 3 days it has been ousted by The Heist, which now occupies the #1 position for daily downloads. In just half a day, the app was downloaded 25,233 times. How much revenue is that?At a price of $0.99, and a rate of more than 1 download per second, revenues are already nearing $100,000 after just a few days. Now there was a team of several people working on this app, but still this kind of revenue is impressive. Even after paying salaries for the development team, at this rate there will be plenty of room for profit.
A key factor in the success of The Heist was the marketing campaign. Hints were passed around about the game several months before launch, and a competition is being run on the website where you can win an iPad by tweeting about the game.
On Android, it's much more difficult to achieve this many downloads. In fact, Distimo's latest report shows that only two paid applications have been downloaded more than half a million times in the Google Android Market worldwide to date. Android users in general seem to be less willing to pay for apps, instead searching for free alternatives.
This leaves a great opportunity however for ad-supported "free" apps on Android. These are apps which can be downloaded free of charge, but contain small ads from companies such as AdMob. If users like your free app, there is also the option to provide a paid "upgrade" version which removes the advertising, in exchange for a download fee. The only downside of this method is that download numbers will be split between your two app versions, limiting the chance of reaching the #1 download spot.
What about you? Do you want to pick up the challenge, and emulate The Heist's success on Android?