Overview
In my October report, I described how this one simple app turned into an overnight success. Fake iPhone 4S brought in over $700 in October alone, helping to bring my total earnings for that month over the nominal target of $1000.
In November, these already fantastic results improved in every way. Total Active Installs went from ~140,000 at the end of October to over 400,000 by mid-November. By the end of November, I'd reached about 1.2 million total installs. This boost in downloads seemed to be mostly self-propagating. By reaching the top Trending charts for the Android Market, it was noticed by a lot of people, which in turn helped keep it in the top charts.
It still amazes me that an app which I created as a casual idea in my free time would reach this level of popularity. There's no way I would have predicted this number of people could be interested in downloading a Fake iPhone. But I tried it – and apparently a lot of people do want this kind of app.
Anyway, this torrent of new users brought a proportional increase in revenue. In fact, during November I brought in an average of over $200 per day! This was an incredibly exciting month for me – and busy too, as I released a number of updates.
Advertising Networks
Throughout the month I added a lot of new advertising networks. Since I was getting a heap of ad impressions, I thought it was an ideal time to try out a few other networks I'd heard of, and see how they compare in terms of eCPM and overall revenue.
Here's a chart showing the overall distribution of revenue between all the networks I used this month: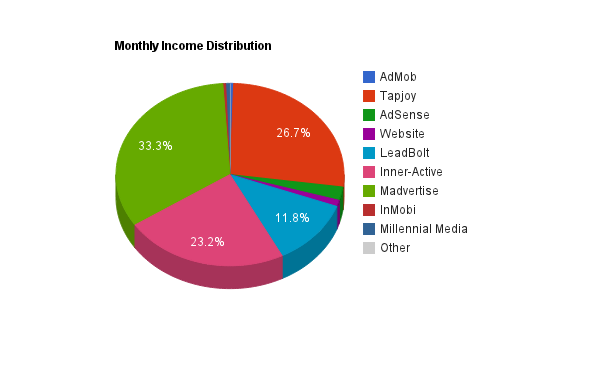 A few of these networks are worth mentioning in detail, which I've done below.
Tapjoy
Impressions: 300K | CTR: 18% | eCPM: $6.33 | Revenue: $1,893.27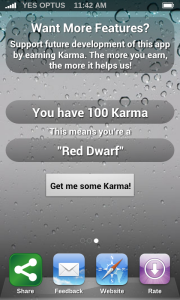 My biggest success here was with Tapjoy. I decided to add a little "gamification" to Fake iPhone 4S, and see if this would help improve revenues. I'm very pleased with the results (see The Numbers section below for details).
All I did was add an extra "screen" (to the far right, when users scroll through the app), which shows how many "Karma points" the user has earned. Of course, it starts at zero, and the way to earn points is by completing Tapjoy offers. Most of these offers are free, so there's very little friction involved.
For this particular app though, there were no extra features or levels to unlock. Normally Tapjoy points would be used in a game, or to unlock new features in an app. In this case, I integrated this points system purely as a method of supporting the developer (me!), with no other reward for the user per se.
I did add a little "incentive" to earn points though – by giving the user a title. As an individual earns more points, they progress through the roles such as "Red Dwarf", "White Dwarf", and "Karma Wizard". It's a pretty simple concept, but gives a little bit of a reward for completing offers. Which is always a good thing 🙂
LeadBolt


Impressions: 6.3M | CTR: 2.36% | eCPM: $0.13 | Revenue: $835.48
LeadBolt brought in good results – not stellar, but stable & reliable. The eCPM was certainly not impressive. The main aspect which brought made LeadBolt so effective was the high fill rate. Other advertising networks often struggled with inventory, whereas LeadBolt was one of my "safe" networks, which would regularly return decent adverts.
Ironically LeadBolt don't actually show me the fill rate on their reporting interface. But since my app switches between the different ad networks randomly, I can make a guess of the fill rate based on the number of impressions compared with other networks.
If LeadBolt had the eCPM of Inneractive or Madvertise, it would be fantastic. But it seems that their banner adverts (which I was primarily using here) are more of a guaranteed fill, rather than a high-flying revenue driver.
Inner-Active

Impressions: 1.3M | CTR: 6.95% | eCPM: $1.20 | Revenue: $1,649.88
One thing I must say – Inneractive has great developer support (similar to LeadBolt). I've had a personal account manager from the start, and she has been very helpful when I had any queries or difficulties. In fact, I've even had reps from Inneractive drop by on this blog, offering help to developers looking to get started. They're definitely a company that values communication, and you shouldn't have any trouble getting in touch with a real person here.
Having said that, let's look at the numbers for this month. Fill rate & eCPM were quite good, bringing Inneractive to 3rd place in terms of overall revenue (behind Madvertise). The CTR was really quite high. Coupled with the reasonable fill rate, I chose Inneractive as another one of my "safe" networks, which I'd revert to automatically if another system was struggling to provide inventory.
Madvertise

Impressions: 135K | CTR: 4.71% | eCPM: $17 | Revenue: $2,360
Madvertise is a bit of an interesting case. On the one hand, they offer absolutely stunning eCPMs – especially considering these are banner adverts. But on the other hand, the fill rate is pretty appalling.
As it turns out, Madvertise only fills inventory for a small set of Western European countries. Outside of this area, you'd be lucky to get any adverts at all. As most of my app downloads come from the USA, it would seem Madvertise isn't a great fit for me.
What I ended up doing, was including Madvertise in my "random rotation" ad mediation code. But if Madvertise failed to provide an ad, I'd blacklist that network for the rest of the user's session. So if a US-based user opened my app, it would request an Madvertise ad, fail to load, and switch over to use my other networks for any future requests. But for somebody in Europe, the Madvertise code would fill the space, and whitelist Madvertise for the rest of that session. Any future ad requests for that user, would be exclusively directed to Madvertise.
So as you can see, I made a very specific exception here for Madvertise. Without this kind of intelligent switching, I'm sure the fill rate in my reports would have been much lower. But as it turns out, Madvertise managed to bring in more revenue for this month than any of my other advertising networks – over $2000 US-dollars. That's right – I earned more money from this single network in November, than from all my income sources combined in October! Crazy stuff.
Other Networks
Most of the other ad networks speak for themselves. It's probably worth mentioning though, AdMob was not included in the Fake iPhone app. Hence revenues aren't greatly improved this month.
Also worth noting, Airpush is only included in one of my apps, which is actually a demo of Airpush functionality itself. This app has very few users, so is not bringing in any real revenue. I'm not planning to introduce push notification ads into any of my other apps. I simply created this one to try out the SDK 🙂
The Numbers
Here are detailed figures for all the advertising networks I used in November.
Advertising Networks – Breakdown
AdMob
| | |
| --- | --- |
| AdMob Impressions | 108,974 |
| AdMob CTR | 0.88% |
| AdMob eCPM | $0.34 |
| AdMob Fill Rate | 56.69% |
| AdMob Revenue | $36.54 |
AdSense
Tapjoy
| | |
| --- | --- |
| Tapjoy Offerwall Views | 299,252 |
| Tapjoy Clicks | 53,815 |
| Tapjoy Conversions | 9,180 |
| Tapjoy CTR | 18.0% |
| Tapjoy eCPM | $6.33 |
| Tapjoy Revenue | $1,893.27 |
LeadBolt
| | |
| --- | --- |
| LeadBolt Impressions | 6,397,790 |
| LeadBolt Clicks | 151,052 |
| LeadBolt CTR | 2.36% |
| LeadBolt eCPM | $0.13 |
| LeadBolt Revenue | $835.48 |
| LeadBolt Referral Revenue | $0.21 |
Inneractive
| | |
| --- | --- |
| Inneractive Requests | 1,682,011 |
| Inneractive Impressions | 1,380,207 |
| Inneractive Fill Rate | 82.057% |
| Inneractive Clicks | 95,960 |
| Inneractive CTR | 6.953% |
| Inneractive eCPM | $1.20 |
| Inneractive Revenue | $1,649.88 |
Madvertise
| | |
| --- | --- |
| Madvertise Requests | 414,249 |
| Madvertise Impressions | 135,731 |
| Madvertise Fill Rate | 33% |
| Madvertise Clicks | 6,399 |
| Madvertise CTR | 4.71% |
| Madvertise eCPM | 12.95€ (approx. $17 USD) |
| Madvertise Revenue | 1,758.24€ (approx. $2,360 USD) |
InMobi
| | |
| --- | --- |
| InMobi Requests | 57,324 |
| InMobi Impressions | 18,235 |
| InMobi Fill Rate | 31.81% |
| InMobi Clicks | 1,216 |
| InMobi CTR | 6.67% |
| InMobi eCPM | $1.535 |
| InMobi Revenue | $27.98 |
Millennial Media
| | |
| --- | --- |
| Millennial Media Requests | 199,267 |
| Millennial Media Impressions | 81,369 |
| Millennial Media Fill Rate | 40.83% |
| Millennial Media Clicks | 554 |
| Millennial Media CTR | 0.68% |
| Millennial Media eCPM | $0.49 |
| Millennial Media Revenue | $39.53 |
Airpush
| | |
| --- | --- |
| Airpush New Installs | 459 |
| Airpush Requests | 1,075 |
| Airpush Total Pushes | 1,049 |
| Airpush eCPM | $7.07 |
| Airpush Revenue | $7.41 |
Totals
Total App Downloads: 1,374,362 (+1,055,158)
Total Ad Impressions: 8,422,607 (+5,758,191)
Total Ad Revenue: $6,855.13 (+5,555.72)
Revenue Per 1,000 Impressions: $0.81 (+0.31)
Android Market Sales: $4.04 (2 sales) (+2.03)
Total AdSense Revenue: $168.68 (+95.17)
Other Website Advertising: $90.85 (+12.85)
Total Income for November: $7,118.70 (+5,637.78)
Conclusion
As you can see, November was a very exciting time with a huge increase in pretty much every metric I've been counting. It was my best month yet, by a factor of more than 400%. This demonstrates more than ever, that it is possible to make money with Android.
The only real downside of these results, is that all my revenue is pretty much dependent on one app. The ongoing challenge will be to diversify – which is easier said than done. It's going to be hard to replicate the viral popularity of a popular keyword with some of my other more obscure apps. But I've already seen a rise in daily installs for most of my listings.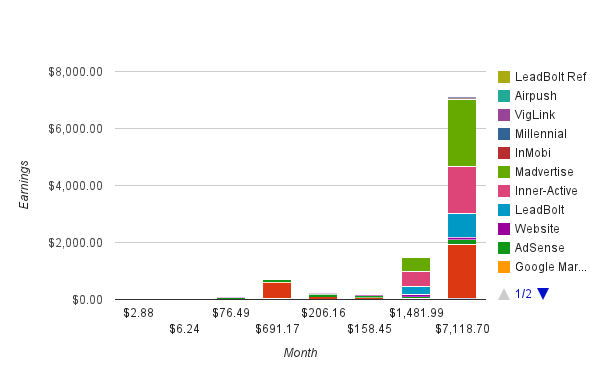 Speaking of ongoing challenges – yes, this report is very late. Like, 6 months late. I apologise to everyone who's been watching & waiting for new reports. I'm something of a perfectionist, so I always struggle to publish an article without spending a lot of time refining it. And in recent months, I just haven't had that time.
Although this report is far from perfect (by my standards anyway), at least it's published now. Which is a lot better than no report at all 🙂 I hope these details I've written up can help other developers interested in pursuing a similar path. As always, feel free to share your questions / comments in the Disqus thread below. Or, drop by the forums for a more detailed discussion with fellow devs.
Until next time!
-David