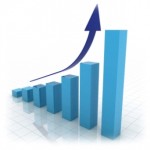 When I started this blog, I set myself a goal: to make $1000 from Android development in a single month. This seemed a lofty goal – especially starting from scratch – but I thought it would be achievable within a couple of years. Thus it was quite a surprise in July when I got nearly halfway there – $690 in a single month. This was just 4 months after my first income report of less than $4!
Even more surprising – and exciting – is the news that this month, I passed the $1000 mark. Yes, after 7 months of Android development I've actually reached the goal set back in March. This was mainly due to the phenomenal success of my latest app – "Fake iPhone 4S".
Read on for more details, including the full story of how one weekend's work turned into my most successful app yet.