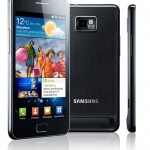 The two hottest smartphones announced this year are the Samsung Galaxy S II, and the HTC Sensation. Both devices have fantastic specs and a huge 4.3″ screen. But at the end of the day, which one performs best? Which one should you buy? Read on for a full comparison, including a color-coded table showing where each phone wins in specifications.
The Samsung Galaxy S II has been confirmed to be released on 1st May this year in the UK. It is currently available for pre-order from Clove, Handtec, or several other online stores.
The HTC Sensation was announced on 12th April, to be released some time mid-May in the UK.
This table lists the complete phone specifications in a side-by-side comparison. Where one phone wins hands-down, I've highlighted it in green. Where there are differences, but not a clear winner, I've highlighted the cell orange. You can find my final verdict at the bottom of the page.
Samsung Galaxy S II vs. HTC Sensation – Feature Comparison

HTC Sensation

Samsung Galaxy S II i9100 (16GB)
Release date

Mid-May

May 1st

Price
Unconfirmed

£440.00 from Clove

SIM Free & Unlocked
Yes
Yes
Operating System
Android
Android
Version
2.3 (Gingerbread)
2.3 (Gingerbread)
Custom Skin
HTC Sense 3.0
TouchWiz
Processor
Speed
1.2GHz Dual Core
1.2GHz Dual Core
Make/Model
Qualcomm Snapdragon
(Cortex A8)
Samsung Dual-Core Exynos CPU
(Cortex A9)
Expansion Slot
Yes
Yes
Type
MicroSDHC
MicroSDHC
Max. Capacity
32GB
32GB
RAM
768 MB
1GB
Internal Storage
Yes
Yes
Capacity
1GB
16GB
Display/Screen
Touchscreen
Yes
Yes
Size
4.3
4.3
Type
Super-LCD
Super AMOLED Plus
Resolution
qHD 540 x 960
WVGA 480 x 800
Other
Gorilla Glass
Gorilla Glass
GSM/GPRS
Yes
Yes
Frequencies
850/900/1800/1900 MHz
850 / 900 / 1800 / 1900 MHz
Speed
GPRS Up to 114 Kbps downloading, EDGE Up to 560 Kbps
GPRS Up to 114 Kbps downloading, EDGE Up to 560 Kbps
3G/HSPA
Yes
Yes
Frequencies
900/2100 Mhz
850/900/1900/2100 (Quad band)
Speed
Up to 14.4 Mbps download speed, Up to 5.76 Mbps upload speed
Up to 21 Mbps download speed
Bluetooth
Yes
Yes
Version
3.0
3.0 HS
Functions
A2DP for wireless stereo headsets, FTP and OPP (object push) for file transfer, PBAP for phonebook access from the car kit, Other supported profiles: AVRCP, GAP, GOEP, HFP, HID, HSP, MAP, SPP, SDAP
up to 24Mbps data transfer
WiFi
Yes
Yes
Version
IEEE 802.11 b/g/n
IEEE 802.11 a/b/g/n
DLNA
Yes
Yes
Version
Ports
Data/Power
MicroUSB
Micro USB
Audio
3.5mm
3.5mm jack
Video Out
MHL via MicroUSB
MHL via MicroUSB
GPS
Yes
Yes
A-GPS
Yes
Yes
Camera
Yes
Yes
Megapixels
8
8
Flash
Auto focus and dual LED flash + Stereo sound
Auto focus w/ LED Flash
Camera Lens
Front Facing Camera
1.3 MP
2MP
Sensors
G-Sensor
Yes
Yes
Proximity Sensor
Yes
Yes
Light Sensor
Yes
Yes
Audio
Formats
.aac, .amr, .ogg, .m4a, .mid, .mp3, .wav, .wma (Windows Media Audio 9)
MP3, OGG, AAC, eAAC , AMR-NB, AMR-WB, WMA, WAV, MID, AC3, IMY, FLAC, XMF
Video
Formats
.3gp, .3g2, .mp4, .wmv (Windows Media Video 9), .avi (MP4 ASP and MP3), .xvid (MP4 ASP and MP3)
MPEG4, H.264, H.263, WMV, DivX, Xvid, VC-1
Recording
1080p @ 30 fps
1080p @ 30 fps
Near Field Communication
No
Yes
FM Radio
Yes
Yes
Battery
1520 mAh
1650 mAh
Dimensions
126.1mm x 65.4mm x 11.3mm
125.3 x 66.1 x 8.49 mm
Weight
148g with battery
116 grams
Software
Google services
Document Viewer / Editor, SWYPE, Android Brower, RSS Reader
Other
USB & WiFi Tethering
Fully integrated Social Media Hub, Music Hub, Games Hub and Readers Hub
Build
Aluminium Unibody
Plastic
The verdict? Out of 15 feature comparisons, Samsung Galaxy S II wins 12 hands down, leaving only 3 for the HTC Sensation. The main areas where HTC comes out ahead are in the screen resolution, and build quality (although the latter is somewhat a matter of personal taste).
The Samsung Galaxy S II is certainly the better phone by features, and the Exynos CPU provides some extra native HD video processing features which might put it ahead as well. The extra RAM and Internal Storage will be appreciated by power-users or gamers. However, the HTC Sensation also offers an excellent package with higher screen resolution and build quality, plus stereo sound recording and dual flash.
Both phones are excellent devices, but I'll be putting my money on the Samsung Galaxy S II. What are your thoughts? Leave a comment below.
Update: It has been pointed out in the comments that the Samsung Galaxy S II actually has a Cortex A9 CPU, which puts it ahead of the Sensation's Cortex A8. According to some analysis, the CPU inside the Sensation is actually closer to an A9 than A8. However, the Galaxy S2 is actually an improved A9, so I guess it's another win for the Galaxy. I've updated the table to reflect this – thanks Will!