elusivestars.com is a newly launched website, providing crowdsourced testing for Android app developers.
As any developer will be aware, it's one thing to write an app that works well on your own handset. It's a totally different story to create an app that will function correctly on the myriad of different Android devices out there, with completely different screen sizes, memory limitations, and OS versions.
Elusivestars aims to solve this problem, by connecting developers with real-life users who can test the app before launching publicly. You pay users a small amount to download & install your app, and they will provide feedback on a number of different topics including usability, appearance & stability.
At present the service is still in beta, so developers can sign up & test projects for free. Once the service fully launches, there'll be a fee charged for testing your app.
I spoke with the founder Pete Oliveira earlier this year, after he reached out to me seeking feedback regarding the concept. He's very aware of the issues developers face trying to get an app up & running on multiple platforms. One of the goals of elusivestars is give developers nearly instant feedback about how their app performs on a range of different devices. The whole review process has been streamlined, so the time from publishing your app to receiving a complete set of reviews is minimized.

This looks like a very promising service, which could be helpful to a lot of Android developers (including myself).  I'm currently testing the service as a developer, with positive results so far. Shortly after posting my first project, a couple of reviews had already started coming in. Most of these reviews were positive (a good thing, since I submitted a version of my Fake iPhone app which had already been released on the Android market!). However, one person identified an issue with low resolution images appearing fuzzy on a higher resolution LG device. This issue hadn't come up in testing with the Android emulator, nor on my Galaxy S II with a slightly lower resolution. I've now got something to work on for the next release of my app!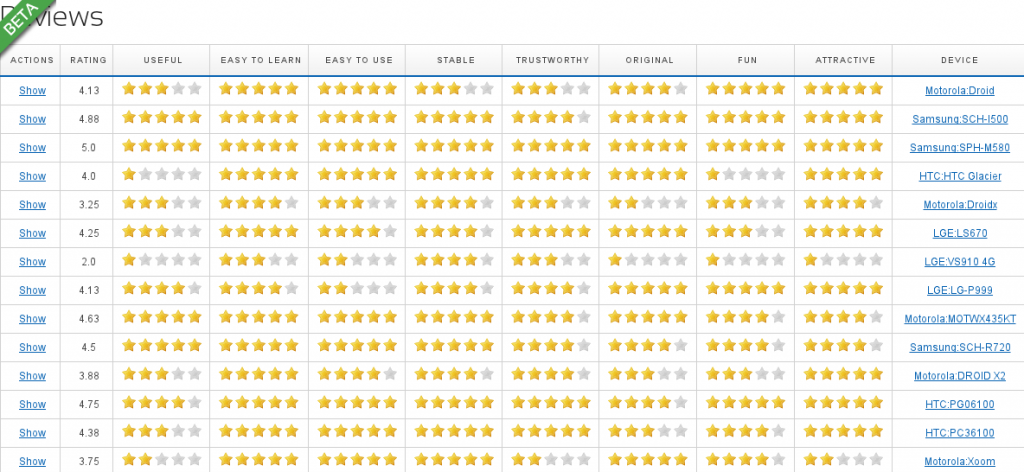 Last, but certainly not least, comes the most exciting part about this site.To celebrate the public beta, and to encourage new signups, elusivestars is giving away an Android tablet (specifically, the original Asus Eee Pad Transformer). It's one of the best tablets on the market today, so the prize is well worth winning. This tablet will be awarded to the user who can get the most accepted referrals. All you have to do is sign up & share the website with your friends, using your unique referral code. And yes, I'm entering, so you'll notice my referral link in this post 🙂
There's only 11 days left to enter the competition – so if you'd like to be in the running to win an Android Tablet, I'd recommend you sign up to elusivestars today. During the beta period it's completely free, so there's nothing to lose. It's a very promising service that's well worth a look. And not just because they're giving away a tablet 😛